Bespoke accessories handmade in Paris
Maison F caters to both fans of a classic wardrobe as much as the demanding avant-garde fashion enthusiast seeking a little bit of distinction.
Its bespoke accessories include ties, bow ties, ascots, pocket squares, scarves, flowers and buttonholes all handmade in Paris. Manufactured by fifty seamstresses in its Parisian workshop, Maison F accessories are also available custom-made in limitless combinations from a unique range of fifty innovative shapes and styles and in no less than 280 fabrics including silk twill, jacquard, printed cotton and cashmere to name but a few. Everyone can now wear these authentic luxury accessories whilst contributing to the preservation of French expertise and craftsmanship.
Women are also encouraged to explore the universe of Maison F which will also skillfully adorn any female neckline.
François-Régis Laporte is always looking for new opportunities and is already contemplating the next step for Maison F with the creation of a line of shirts, fuelling his passion for neck ties and new artistic associations...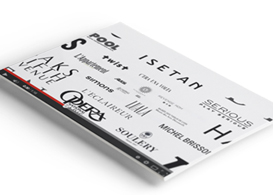 Watch the Boutique opening teaser
"Thank You Everyone"
Maison F Boutique
- CARRE RIVE GAUCHE -
42, rue de Verneuil
Paris 7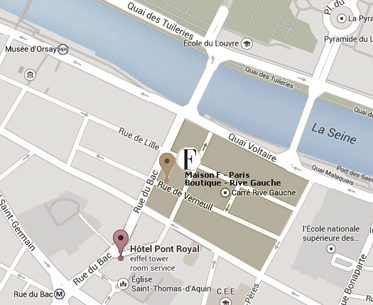 After six collections, three co-brandings, and the launch of its online shop; Maison F the very first fashion house dedicated to the art of French tie making inaugurates its Parisian boutique at 42 rue de Verneuil in the 7th arrondissement in Paris.

Located in the prestigious "Carré Rive Gauche", just steps from the historic home of Serge Gainsbourg and the infamous Rue du Bac, Maison F designer and founder François Régis Laporte has chosen a peaceful environment where famous artists, galleries, fashion houses and interior designers all rub shoulders to open his first retail store.
Menswear revisited
For the past three years François-Régis Laporte, Maison F creator and tie maker, inspired by trends initiated in the 17th century by Louis XIV has been revisiting and modernising the shape and features of traditional neckwear, an essential in any man's wardrobe, with the greatest respect for artisanal "savoir-faire".
In this tradition and in minimalist surroundings now stands a tie bar displaying a decidedly original and unique product offering ranging from iconic short ties (to be tied individually or two together at the same time) to bowties that can be either fastened or tied in a classic knot, to single form ties in a variety of shapes and sizes from cubes to moons to mermaids to cat's heads and even more "erotic" forms….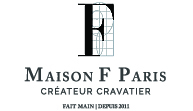 ALL MAISON F COLLECTION ON OUR E-SHOP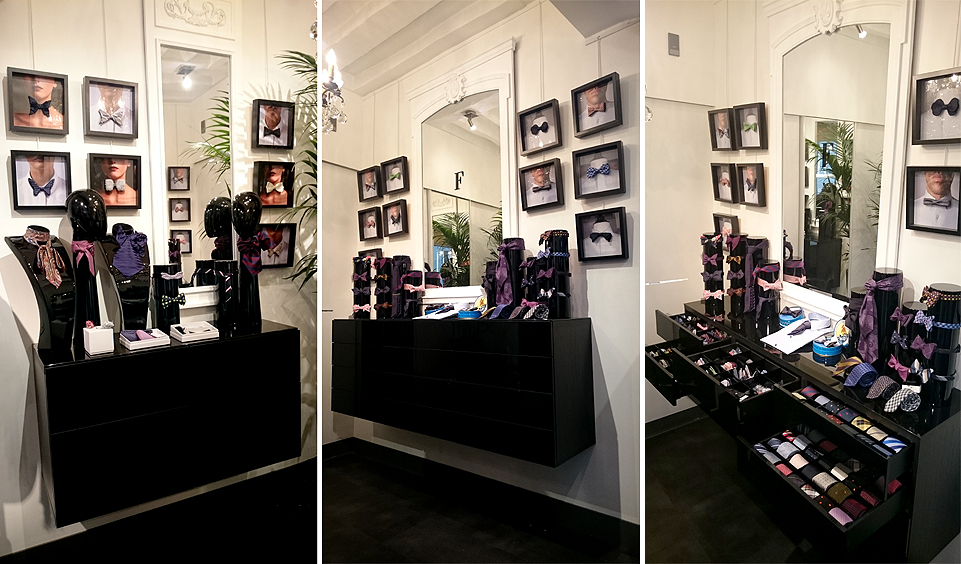 Open from tuesday to saturday from 11am to 7 pm.
During banked days or christmas period verify by calling us at
09 52 98 04 65